Earn points for train journeys in Brighton & Hove and beyond
Autumn and winter can be a beautiful time of the year. Yet it also brings wetter, colder and darker conditions that make travelling on foot or bike less appealing.
To keep you travelling sustainably despite the seasonal changes, we are introducing some additional train rewards.
Rigorous cleaning regimes and new products proven to help stop the spread of Covid-19, adopted by operator Southern Railway, has made the local rail network cleaner than ever. Other measures introduced include audio and visual announcements at stations to advise of any on-the-day crowding, and greater flexibility with ticket bookings.
With more people able to travel safely and confidently on public transport, we want to encourage Move for Change participants to leave the car at home and choose the train instead.
What rewards can I earn?
From 4th October, you can earn 1 BetterPoint per minute (up to 60 minutes per day) for train journeys within Brighton & Hove and further afield.
You can earn this points reward for train travel that starts or ends as far as Haywards Heath to the north, Worthing to the west and Eastbourne to the east.
You can also earn BetterTickets for our Weekly Prize Draw by taking the train in the 'Brighton & Hove Extended Rewards Zone' illustrated below. 25,000 BetterPoints worth of prizes are available each week!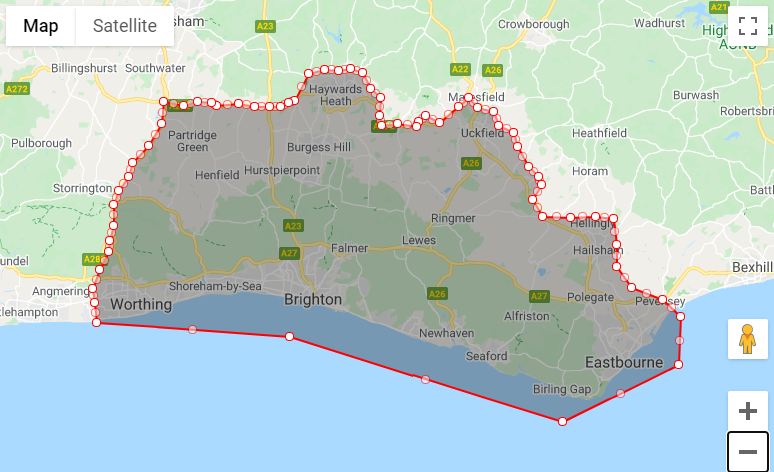 So whether it's for the commute, shopping or leisure trips into or out of Brighton & Hove, choose the train to earn yourself points and prizes!
I am not signed up to BetterPoints...how do I join?
Download the BetterPoints app for free from the

App Store

or

Google Play.
Complete the registration form and then join the 'Move for Change' challenge from the invitation in your app timeline.
For more information about how to take part, tap or click here.